Glyndŵr was a well-respected figure in Wales and regarded by many as the Mab Darogan or Son of Prophecy. Most of his Family Members would have been present at the start of the Uprising in Glyndyfrdwy in September 1400, along with a large gathering of local people which included: Hywel Cyffin (the Dean of St Asaph); Crach Ffinnant (a prophet); and members of prominent families, such as Madog ap Ieuan ap Madog and Ieuan ap Hywel Pickhill.
According to the Court Roll of a trial in Oswestry in October 1400, Owain had been joined by many more people during the first week of the Uprising. Listed in the document are the names of almost 50 men who had played a leading part in the attacks and were therefore declared 'traitors', as well as almost 150 others who were pardoned because they had been 'compelled to take part'.
Many others joined him as the campaign progressed and, in England, Welsh labourers downed their tools to return home to join his cause and university students in Oxford left their studies to do the same.
Owain's cousins, Gwilym and Rhys ap Tudur, took Conwy Castle in April 1401 and were subsequently added to Henry IV's list of traitors. The brothers became lieutenants under Glyndŵr's command, along with other uchelwyr (noblemen) with a great deal of military experience. These included: Rhys Gethin of Builth; Henry Dwn of Cydweli; Rhys Ddu of Cardigan; Hywel Gwynedd of Flintshire; and Hywel Coetmor and his brother (also Rhys Gethin) of Llanrwst.
A num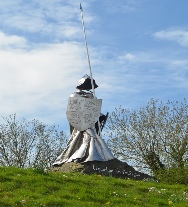 ber of these men would go on to lose their lives whilst fighting for Owain's cause, along with notable others such as Llywelyn ap Gruffudd Fychan at Llandovery and William Gwyn ap Rhys Llwyd at Aberystwyth.
Religion played a fundamental part in everyday life during this period and, along with Hywel Cyffin, leading members of the clergy joined with Glyndŵr, such as John Trefor of St Asaph, Lewis Byford of Bangor and John ap Hywel of Llantarnam.
Owain had a clerical staff consisting of Gruffudd Yonge (chancellor), Benedict Comme (clerk) and Owain ap Gruffudd ap Rhisiart (secretary); and a group of diplomats also acted on Glyndŵr's behalf abroad, including Yonge, John Hanmer, Maurice Kerry, Hugh Eddouyer and Dafydd ab Ieuan Goch.
Glyndŵr also had support from other countries during the Uprising:
- notable Englishmen who joined his cause included Edmund Mortimer, Henry Percy (Earl of Northumberland) and his son Henry 'Hotspur', and John and Philip Skydmore (or Scudamore);
- in Fran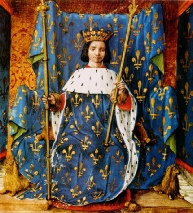 ce, Charles VI and his brother, the Duke of Orleans, were important supporters who organised for armies to be sent to Owain's aid, as well as military men such Jean d'Espagne; and
- the king of Scotland, Robert III, also gave his support.