At the e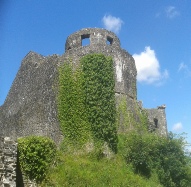 nd of June 1403, while the English-held town of Brecon was being attacked by the 'Men of Brycheiniog', Glyndŵr was mustering a large army for a campaign into south-west Wales.
Accompanied by Rhys Gethin and Rhys Ddu, Glyndŵr's force attacked the town of Llandovery on July 3rd, where the castle was taken after a short siege. They then continued down the Tywi valley to Llandeilo where Dinefwr Castle had already been put under siege by a group led by Henry Dwn and Gwilym ap Philip from Cydweli.
By the time the army reached Dryslwyn it was said to be over 8000 strong, and forced the constable of the castle to surrender immediately. A smaller force had also put Carreg Cennen Castle under siege at the same time, with its constable, John Skydmore, reporting that the whole area had been overwhelmed by Owain and his men.
Around th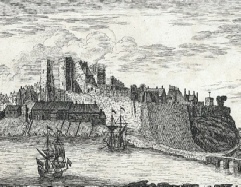 is time, Newcastle Emlyn was also taken after its keeper surrendered the castle without a fight, and Glyndŵr and his men attacked and took Carmarthen's town and castle on July 6th. This was a significant victory for him.
Glyndŵr is said to have consulted with Hopcyn ap Tomas ab Einion - a 'master of Brut' - whilst at Carmarthen, and this may well have affected his plans for the next part of the campaign. Instead of travelling eastwards through Glamorgan to eventually meet up with Henry 'Hotspur' Percy at the Battle of Shrewsbury, Glyndŵr travelled in the opposite direction towards Pembrokeshire.
His army was halted near St Clears, however, when they were confronted by a force led by Thomas, Lord Carew. The two men may well have forged an agreement here which resulted in Glyndŵr turning around and travelling through Glamorgan, thereby leaving Carew's lands untouched.
This campaign ended after a number of towns had been attacked in Glamorgan and Gwent, and it was at this time that Iolo Morgannwg claimed the Battle of Stalling Down took place near Cowbridge.