The first siege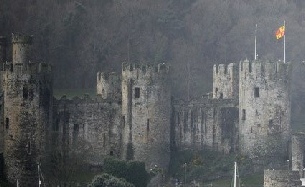 of note during the Uprising took place at Conwy from April 1st until June 24th in 1401. The brothers, Rhys and Gwilym ap Tudur, led a force which took Conwy Castle whilst most of the garrison were at a church service on Good Friday. Rhys and Gwilym were first cousins and principal supporters of Glyndŵr.
The Welsh did not have siege engines or other such equipment at this time, so the brothers used their guile to seize the castle. The siege ended after the brothers negotiated pardons with Henry 'Hotspur' Percy for themselves and their men, but the fact that one of Edward I's 'Iron Ring of Castles' had been taken sent shockwaves around Wales and into England.
Many other English-held castles in Wales were attacked during the Uprising - from Cardiff in the south to Beaumaris in the north, and from Monmouth in the east to Haverford in the west. These attacks were designed to provoke a response, but they also exploited the poor military tactics used by the English at this time.
By the end of 1403, the castles of Cardiff, Carmarthen, Harlech, Aberystwyth and Caernarfon were all under siege, and many others had also been attacked. The Welsh had been joined by a French force at Caernarfon where siege engines were used but the castle was not taken. Glyndŵr's men did take the key castles of Aberystwyth and Harlech in 1404, though, and a further siege at Coity lasted from May of that year until September 1405.
Owain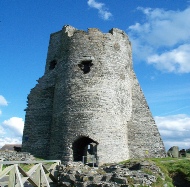 made Harlech his military headquarters and family home for the next four years and used Aberystwyth as an administrative hub. In May 1407, however, during a period of conflict in the French court, an English army led by Prince Henry took the opportunity to attack Aberystwyth.
Rhys Ddu led the garrison at Aberystwyth against an experienced English force that used siege engines and large guns in a sustained attack. By November, when Rhys and his men were ready to submit, Glyndŵr had managed to enter the castle and the siege continued for at least another 12 months.
Harlech Ca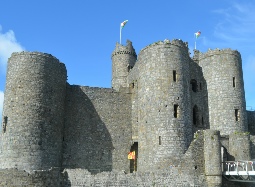 stle had also been under siege for many months by the time Aberystwyth eventually fell and, following a harsh winter, it had succumbed by February 1409. Edmund Mortimer, Owain's son-in-law, died during the siege, and Owain's wife, daughter and grand-children were then taken to the Tower of London where they eventually starved to death.
The French had attempted to lift the sieges at the two castles in 1408 by sea and again sent support in 1409, but they were intercepted on both occasions. Glyndŵr continued to lead the Uprising until his son, Maredudd, took control in 1412, after which time Owain disappeared from public view.