Brynglas was arguably the most important of all the battles of Owain Glyn Dŵr's revolt. It was fought on the hillside known as Brynglas (Green Hill) near the village of Pilleth (not far from Knighton) in Powys on June 22nd, 1402. Owain's men were led by Rhys Gethin, the most gifted and courageous of his generals.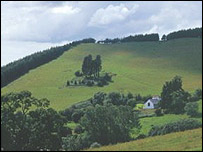 A large English force, led by Sir Edmund Mortimer, marched along the Lugg valley to engage with Owain's men at Brynglas. Mortimer had extensive estates in Wales and the Marches and his young nephew had a better claim to the English throne than Henry IV. The much smaller Welsh force divided - one section was stationed on the crest of the hill to encourage Mortimer's men to engage with them, while the remainder of the Welsh had decamped to a hidden valley alongside the hill.
As Mortimer's army advanced up the slope the arrows of Owain's longbow men rained down on them with deadly effect. Although Mortimer's army was also well supplied with longbows they were less effective when fired uphill. As the two armies engaged in battle on the hill, Mortimer's men were attacked on the right flank and rear by Owain's men who had been concealed in the valley. During the bloody battle which ensued some of the Welsh bowmen in Mortimer's army changed sides and joined Owain's men. The battle ended with a rout of the English army and the capture of Mortimer himself. He was later to become a staunch ally of Glyn Dŵr and he married Owain's daughter Catrin.
This comprehensive victory made a fundamental contribution to the increasing control Owain Glyn Dŵr was to establish on Wales in the following years.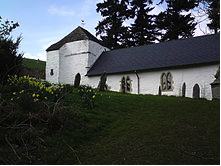 The battlefield is accessed via a short track from the B4356 between Presteigne and Monaughty (the track is suitable for cars). There is a good-sized car park near the Church and a full-colour panel interpreting the battle. The battlefield is signed from the main road. Substantial sections of the church stood at the time of the battle and it has benefited from a substantial restoration recently. Many of the dead were buried on the hill at a site marked today by a group of Wellingtonia trees (see photograph) and others were buried in the churchyard above.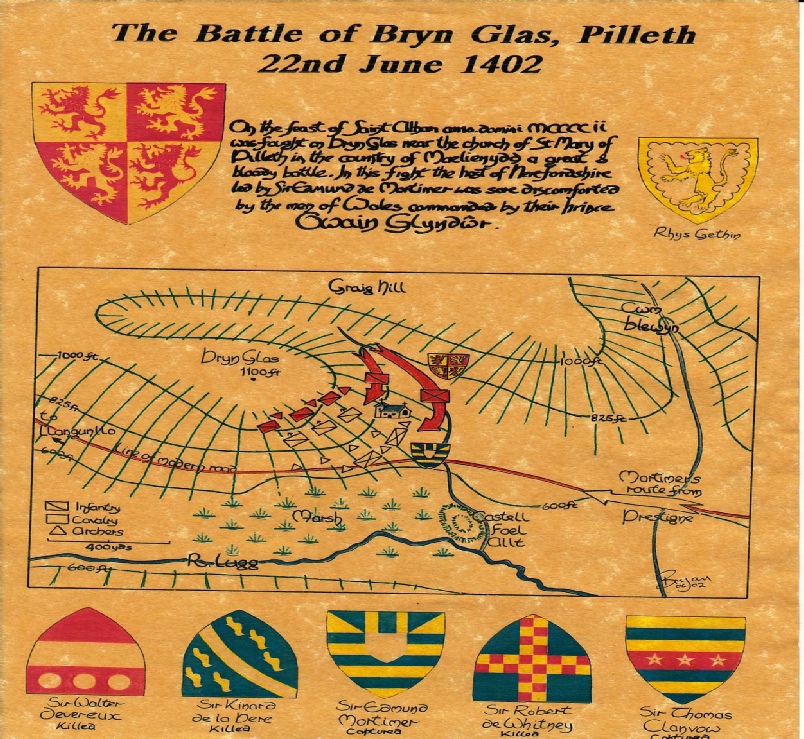 The Society is indebted to Bryan Davies of Brecon for the battlefield plan
Battle of Brynglas (Pilleth)

Cymraeg