Henry IV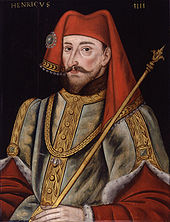 was crowned King of England in the Autumn of 1399 after usurping the throne of Richard II. The first years of his reign were hostile and so he embarked on a number of 'Royal Expeditions' in order to subdue threats to his authority.
A number of these expeditions ventured into Wales, usually in response to attacks on English-held settlements by Glyndŵr and his followers. Henry was supported by large forces on these campaigns, typically consisting of 3000 to 4000 men along with a substantial baggage train.
Moving armies of this size was not easy given the geography of the country and the adverse weather conditions that often hampered them. William Shakespeare highlighted this in his play 'Henry IV - Pt I' (Act III, Scene I) when 'Glendower' says: "Three times hath Henry Bolingbroke made head against my power; thrice from the banks of Wye, and sandy-bottomed Severn have I sent him bootless home, and weather-beaten back."
The accounts below describe the main expeditions made by the English during Glyndŵr's Uprising:
Autumn 1400
On September 24th, Owain ended the first week of his Uprising at the Battle of Vyrnwy, after he had attacked towns and castles in North-East Wales. Henry IV responded on September 28th when he left Shrewsbury with a large force and travelled through North Wales in search of Glyndŵr and his supporters. The army marched via Bangor to Anglesey, where he attacked lands held by Owain's cousins, the Tudurs. He also sacked nearby Llanfaes Abbey and forced the abbots of Bardsey, Maenan and Cymer Abbeys to pledge allegiance to him. Henry then returned to England via Harlech and Dolgellau, arriving back in Shrewsbury on October 15th with little to show for his endeavours.
Autumn 1401
Henry IV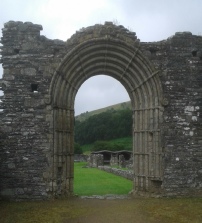 summoned his forces to muster at Worcester on October 1st, and then marched across Wales to Strata Florida Abbey. Here his troops camped in the abbey, robbing its relics and stabling their horses at the high altar. At least one monk was killed and others taken captive, along with hundreds of Welsh children who were taken back to England as slaves. Another part of the English force had marched through South Wales to Brecon, and then joined up with Henry's army at Llandovery. It was here that Llywelyn ap Gruffudd Fychan was executed for delaying Henry in his search for Glyndŵr. The army then looted and raped its way back to England, burning crops, executing captives and confiscating lands as they went. Henry arrived in Shrewsbury by October 15th with little to show for his efforts yet again.
Summer 1402
In late August, the English launched a three-pronged attack into Wales: Prince Henry led an attack from Chester into North Wales to relieve the castles of Harlech and Caernarfon; his father led an attack from Shrewsbury into Mid and North Wales; and the earls of Warwick, Stafford and Arundel took joint charge of an attack from Hereford into South Wales. Chevauchée raids were employed to decimate towns and their surrounding areas - although Glyndŵr would later be blamed for much of the damage, including the devastation of Llanrwst and the nearby Maenan Abbey. One notable event during this expedition occurred during a storm on September 7th, when Henry IV's tent was blown down and he was almost killed by a large tent support. By September 22nd, the campaign had been abandoned and the army returned home having been plagued by bad weather.
Spring 1403
In early M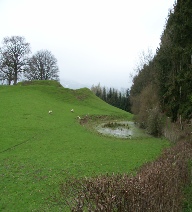 ay, Prince Henry led another attack into North Wales, this time with the sole intention of destroying Glyndŵr's homes. He first burnt to the ground Owain's manor house at Sycharth before crossing the Berwyn Mountains to do the same to his hunting lodge in Glyndyfrdwy. This was described in a letter he sent to his father on May 15th.
Autumn 1403
In response to Glyndŵr's Towy Valley campaign, Henry IV led an expedition from Worcester which arrived in Carmarthen by September 24th. The Castle was regarrisoned but Henry was back in London by the end of September. Immediately afterwards, Glyndŵr's men increased their attacks throughout Wales, and a number of castles fell into Welsh hands by the end of 1403.
Autumn 1404
Prince H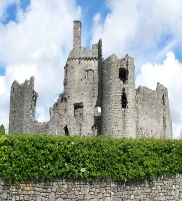 enry was severely injured at the Battle of Shrewsbury in July 1403 but had recovered enough by the autumn of 1404 to lead a force into South Wales to relieve Coity Castle. Coity was then the last castle left in English control in the area but it had been under siege for six months. Henry was accompanied on the expedition by his younger brother, Thomas, and although they managed to save the castle it remained under siege until the following September.
Autumn 1405
After a stand-off with Glyndŵr and his French allies at Great Witley at the end of August, Henry then travelled from Hereford through South Wales to again relieve Coity Castle. He was accompanied by a large army with heavy artillery, and they successfully lifted the siege. On the return journey to England, however, the King's baggage train was lost in flash floods, with most of its treasure subsequently falling into Welsh hands. He arrived back in Hereford on September 29th.